We embrace the joy of celebrating holidays and special occasions, as they are precious opportunities to create everlasting memories. Every moment, no matter how small, holds significance and deserves to be cherished. Here are all the celebrations we've had thus far: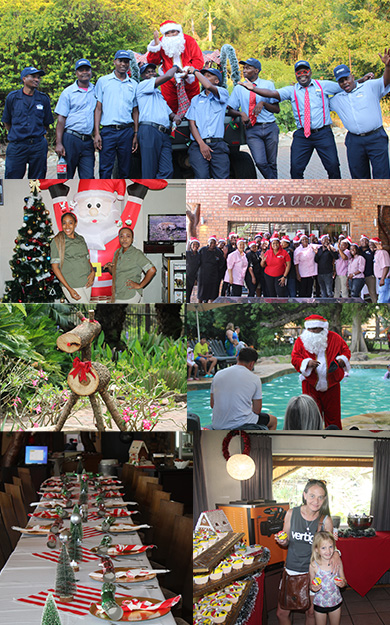 Christmas
Jingle all the way to Ngwenya! Our Reception twinkled with fairy lights and Christmas-themed balloons, captivating our guests as they arrived. A charming display of handmade wooden reindeers and a giant inflatable Santa Claus stood proudly beside our festive Christmas tree. To sweeten their arrival, we offered each person delicious Minion cupcakes and refreshing soft-serve cups. On Christmas Day, Santa made an appearance in his upgraded sleigh, spreading joy and laughter as he showered the children with bags full of surprises at the Games Room. Meanwhile, at the Le Fera Restaurant, families gathered for a grand feast. The Restaurant dazzled with colourful tinsels hanging from above, and guests were welcomed with a complimentary glass of sparkling wine. Personalised table seating cards, bearing each guest's surname, added a special touch, along with the surprise of a sugar cane wrapped in a serviette and a Christmas cracker. It was a wonderful celebration, filled with laughter, delectable cuisine, and a whole lot of Christmas magic!
New Year's Eve
What better way to bid farewell to 2022 than at our vibrant Lounge, with the African sun setting over the Kruger Park and a DJ spinning all our favourite tunes? The Lounge was transformed into a dance floor with vibrant balloons and disco lights, setting the stage for an unforgettable evening. The Le Fera Restaurant made sure not to miss a beat with their famous Surf & Turf and Meaty baskets. And as the clock struck midnight, we welcomed 2023 with a resounding bang! Our guests were each given a bottle of bubbly, ready to pop and raise a toast to new beginnings.
Valentine's Day
Cupid was floating in the air this Valentine's Day, shooting love with his bow in every direction! The Reception was so beautifully decorated, it was as if romance burst through the doors and made itself at home. As our guests were checking in, we served them some delicious love punch with a little bit of ice-cream sweetness. And just when our guests thought they couldn't be more amazed, we surprised them with little bags filled with biltong. To make the day even more special, the Le Fera Restaurant hosted a special lunch buffet; a mouth-watering feast consisting of stew, rice, roasted vegetables, tender chicken, creamy butternut soup, and a beautifully prepared lamb rump. The Ngwenya Team was overflowing with love, and it was truly a remarkable sight to behold. The day was filled with warmth and affection, making it an unforgettable experience for all.
Easter Weekend
We made sure our guests walked into an environment full of love, happiness, and, of course, chocolate eggs. The Reception was adorned with an array of Easter eggs, bunnies, and colourful Chinese lanterns. We also gifted them with a small woven bag filled with Easter eggs. Attached to each bag were adorable bunny ears and a cute little message that read, "Keep calm and carrot on." On Sunday, the Le Fera Restaurant ushered families through their doors for a lunch buffet that surpassed all expectations. Our guests couldn't have been happier, and the children were positively overjoyed. Glowing comments poured in, praising the weekend as a beautiful and heart-warming experience.
Mother's Day
Our Team transformed the Reception into a stunning sight with an array of pink, white, and purple lanterns, balloons, origami flowers, and twinkling fairy lights. As guests checked in, they couldn't resist pulling out their phones and cameras to take some photos. We warmly welcomed them with a refreshing fruit punch, treats from the Restaurant, and some ice-cream. To express our appreciation to all the moms and women visiting us, we gifted them with a special gift from Boeretroos, and small jars filled with homemade body scrubs. The Le Fera Restaurant hosted a three-course lunch buffet that left everyone in awe. It was delightful to witness the outpouring of love as guests spoiled their mothers.